Ms. Le Bich Xuan – student of Hospitality, Sport and Tourism Management major and Ms. Nguyen Thao Vi – student of Management Information Systems major, were nominated by the International School to participate in the student exchange program "Global Futures 2021" hosted by Edith Cowan University, Australia.
This exchange program requires a registration fee of 140 AUD/participant, and VNU-IS has decided to select 02 excellent students among the candidates to participate in the program.
The exchange program will take place in 02 weeks including a variety of activities that were designed for Australian students and international students from partner universities to study, research and engage in teamwork activities. With the theme "Sustainable Development Goals (SDGs)", the program will provide students the opportunity to exchange, interact, research and explore the most suitable solutions to various global issues such as: poverty, protecting the planet, responding effectively to climate change and natural disasters.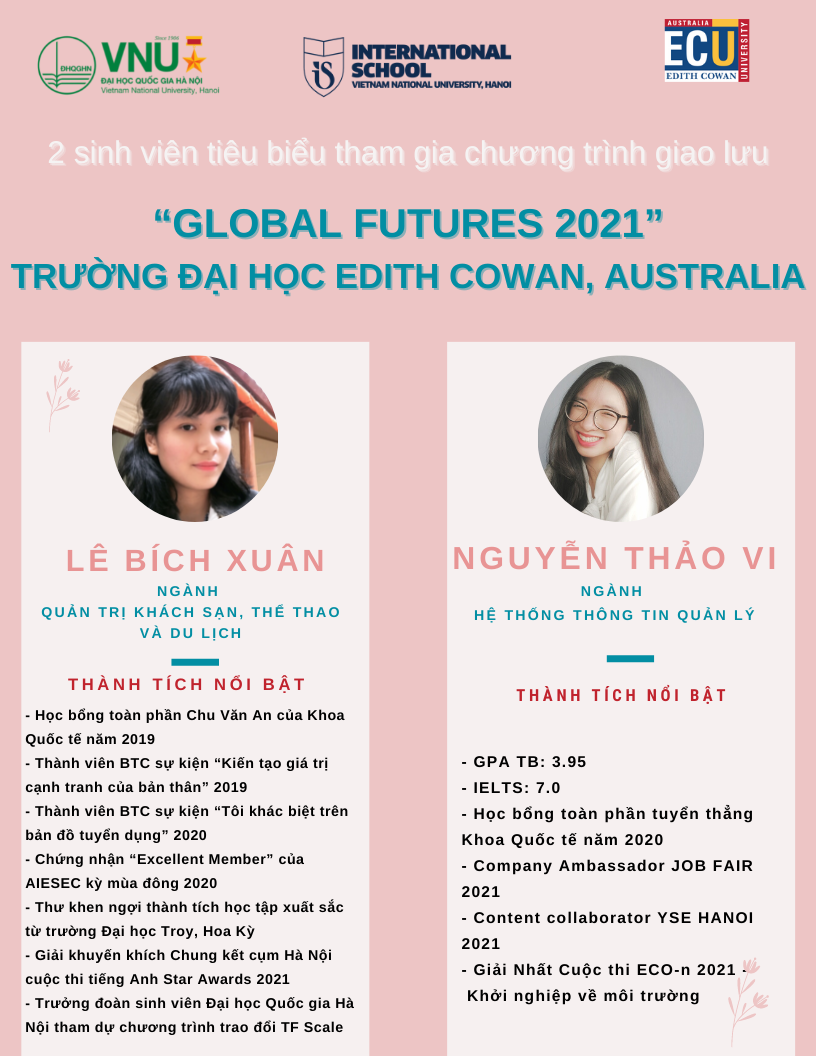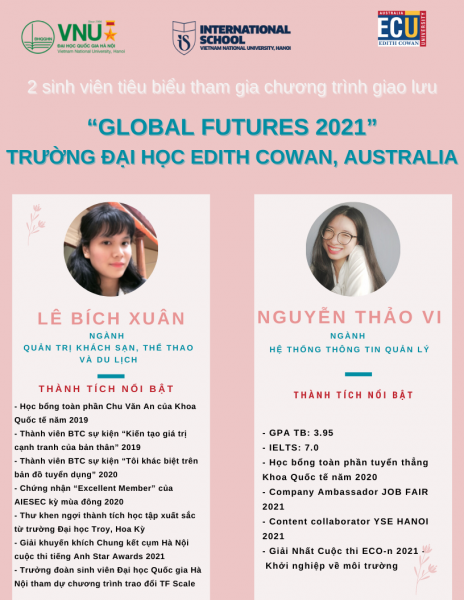 Le Bich Xuan and Nguyen Thao Vi are both outstanding students with GPA of 3.8 and 3.95 respectively, as well as having high level of fluency in English and previous experience in international student exchange programs.
Moreover, both students were awarded full scholarships for their undergraduate study at the International School, and they both participated in a variety of national and international competitions and exchange activities.
During her course of study at VNU-IS, Le Bich Xuan received a Letter of Commendation for excellent academic achievements from Troy University, USA. She also won the Incentive Prize in the final round of the Hanoi cluster of the Star Awards 2021 English contest.
Both of them feel honored and happy to know that they will represent the International School to participate in the exchange program of Edith Cowan University. "I will take full advantage of this wonderful opportunity to learn and expand my network of friends. I would like to thank all the staff and lecturers of the International School", said Le Bich Xuan.
"I feel so proud to represent the students of the International School to participate in this program. I believe that I will learn many new things to develop myself even further", Thao Vi shared her thoughts.
Throughout 20 years of establishment and development, with a desire to train generations of students with comprehensive growth, good expertise, fluency in foreign languages and confidence for integrating globally, the International School always offers the best conditions for students to participate in exchange programs with partner universities across the world. Since 2020, due to the complicated situation of the pandemic, VNU-IS and its partner universities have created a new form of online exchange so that students do not miss the opportunity to study and exchange.
During the last two years of the pandemic, VNU-IS and Ngee Ann Polytechnic successfully co-organized 02 student exchange programs – TF SCALE and OIP, which provide many great insights for students of both institutions.
Nguyen Thao Vi and her teammates are the Champions of the ECO-n 2021 contest – Environmental startups.
Edith Cowan University (ECU), which was established in 1991, is now growing rapidly and has been named in the list of 150 best universities under 50 years old around the world. ECU has developed more than 250 courses in collaboration with professional partners, ensuring that the program content is consistent, relevant and responsive to industry needs.
Many programs are designed to corporate with academic groups such as vocational training, work experience and group projects, fostering critical thinking and enabling graduates to be sought after by employers.
ECU fosters a friendly educational community that stays active and multicultural, with approximately 6,000 international students from over 100 countries across the globe, which is highly rated in terms of satisfaction.
VNU-IS would like to congratulate the 02 students who were nominated to participate in the exchange program with students of Edith Cowan University. It is our hope that you will learn many interesting things, develop more soft skills and connect with international friends.