INTRODUCTION
The combined bachelor's and master's program in Applied Information Technology (AIT) was approved by Vietnam National University, Hanoi and assigned to the International School to organize training according to Decision No. 1308/QD-ĐHQGHN on April 21, 2022.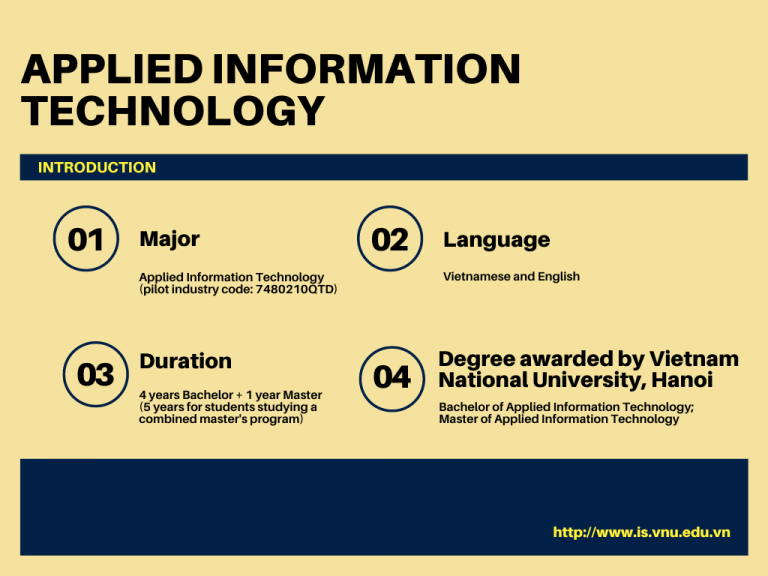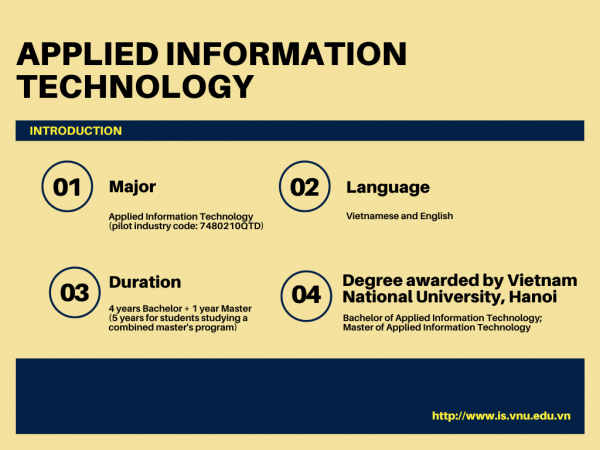 The program has special features that help students increase their ability to meet job requirements right after graduation such as increased practice time in each module; approach real projects in laboratories as well as in enterprises during the learning process. Students have the opportunity to learn more deeply about one of the two branches that need a lot of manpower today: (1) Digital Security and (2) Embedded systems and IoT… Courses of the program include concepts knowledge of science, technology, engineering, and real projects. Students are not only equipped with a lot of extensive knowledge but also trained in the ability to apply this knowledge to activities in different fields of economy, society, etc.
The program also focuses on training skills in entrepreneurship, innovation, management, and personal development, helping students to be able to work in highly interdisciplinary, creative, and innovative projects. ; as well as cultivate basic skills to help students succeed in life such as the ability to socialize, work in groups; the ability to apply knowledge, skills, and experience to solve basic situations arising in life as well as in intensive study and research. Another special feature is that the program also focuses on training students with good English proficiency, able to communicate and work with foreign experts and colleagues in a highly internationalized environment. Courses from 3rd year will be taught entirely in English. At the end of 145 credits, students receive a bachelor's degree and they can accumulate a number of master's courses during their undergraduate studies and can earn a Master's degree after just one year of receiving their undergraduate degree.
PROGRAM STRUCTURE
See the detailed program structure here: AIT Academic Curriculum