INTRODUCTION
Management Information Systems programme was issued according to Decision No. 1025/QD-ĐHQGHN dated April 4, 2014 by President of VNU and assigned to the International School according to Decision No. 2142/ Decision-ĐT dated June 26, 2014 by President of VNU. The program was approved by VNU as a high-quality program corresponding to the school's specificity according to Decision No. 3345/QĐ-ĐHQGHN dated October 24, 2016. As of December 2021, the program has trained 7 courses with a total of 487 students, of which 60 have graduated.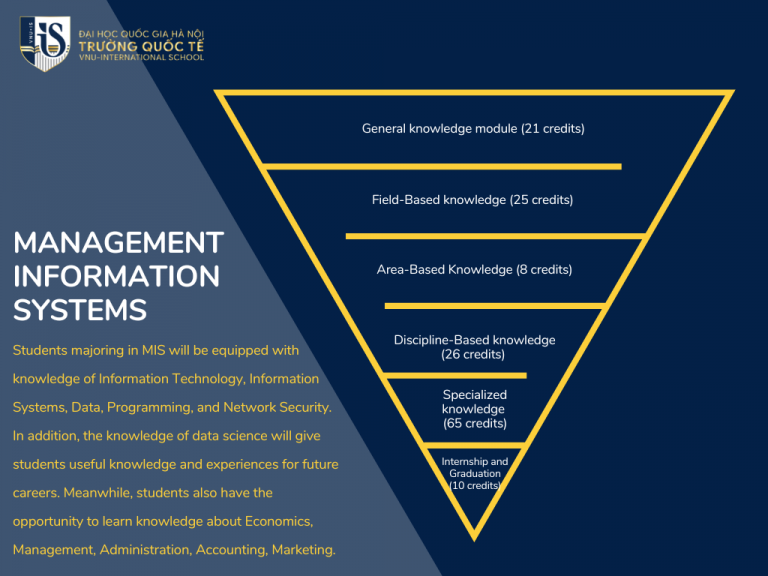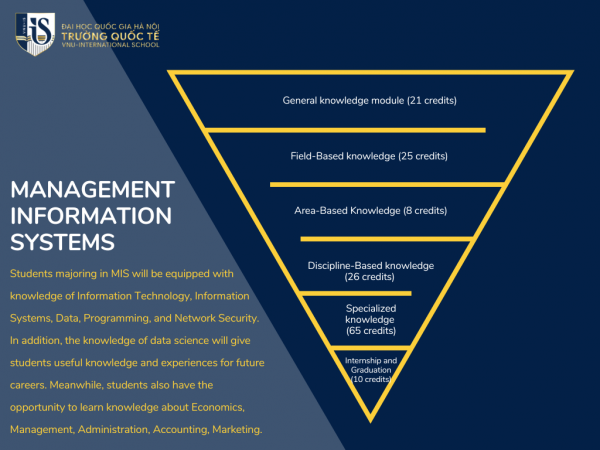 The Bachelor of Management Information System (MIS) program is an English-language training program curriculum framework, teaching methods, examination and evaluation process according to international educational standards, designed on the basis of training programs from the prestigious universities such as University of East London (UK), Singapore Management University (SMU), Pennsylvania State University (USA). The proportion of foreign lecturers participating in teaching the discipline knowledge accounts for 25-30%. International School ensures that 100% of the textbooks and reference materials for field and specialized knowledge are the materials being used at foreign universities. Output quality meets the standards of foreign top universities.
Students majoring in Management Information Systems will be equipped with knowledge of Information Technology, Information Systems, Data, Programming, and Network Security. In addition, the knowledge of data science will give students useful knowledge and experiences for future careers. Meanwhile, students also have the opportunity to learn about Economics, Management, Administration, Accounting, Marketing.
PROGRAM STRUCTURE
See the detailed program structure here: MIS QH2016-QH2018 Academic Curriculum
See the detailed program structure here: MIS QH2019 Academic Curriculum