INTRODUCTION
The Bachelor in Business Data Analytics, issued under Decision No. 941/QD-ĐHQGHN dated April 3, 2019 by President of VNU, is a high-quality training program according to the characteristics of the unit, started enrolling and training the first course from the academic year 2019-2020.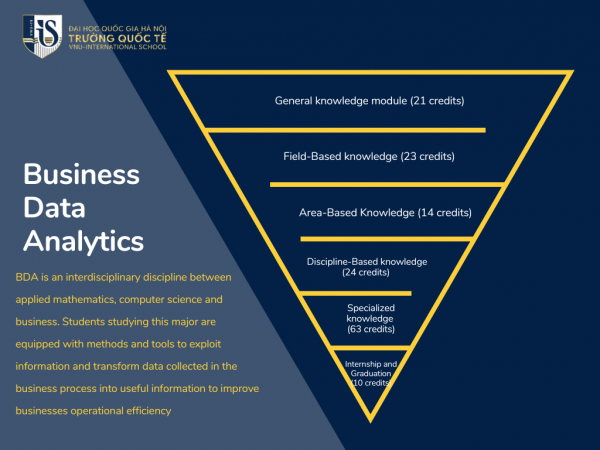 The Bachelor in Business Data Analytics (BDA) program is taught entirely in English and is designed based on a similar program of the University of Pennsylvania and is accredited by the Deakin University (Australia). BDA is an interdisciplinary discipline between applied mathematics, computer science and business. Students studying this major are equipped with methods and tools to exploit information and transform data collected in the business process into useful information to improve businesses operational efficiency.
Besides the knowledge content that is suitable with the trend in the digital transformation era such as computational science, artificial intelligence, business data science. The bachelor's program in business data analysis also focuses on training students in practical skills and English proficiency.
Teaching methods, examination and evaluation process of the Business Data Analytics training program are designed on the basis of international educational standards, The proportion of foreign lecturers participating in teaching the discipline and specialized knowledge accounts for 20-25%. International School guarantees that 100% of the textbooks and reference materials for discipline and specialized knowledge are the materials being used at foreign universities.
PROGRAM STRUCTURE
See the detailed program structure here: BDA- QH2019 Academic Curriculum