On November 7th, 2022, the International School, Vietnam National University, Hanoi (VNU-IS) hosted a meeting with Ms. Shirley Xie, Manager of International Programs, Faculty of Business and Law, Deakin University, Australia (Deakin).
Representatives from VNU-IS attended the meeting, including Dr. Nguyen Van Hai, Deputy Head, along with other officials from the Office of Research and Partnership Development.

At the meeting, representatives of both sides engaged in open discussion for collaboration prospects of the new training program: Bachelor in Business Analytics (BBA) with the degree awarded by Deakin. Students participating in this program will study the first 02 years at VNU-IS and get the opportunity to transfer to Deakin University for the last 02 years to complete the program. This is the first joint training program to be offered by VNU-IS following the 2+2 model.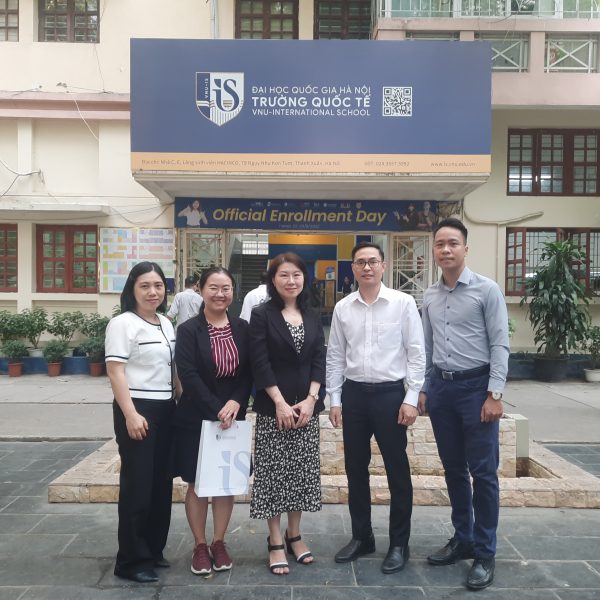 On top of that, the parties also discussed the marketing plan for the next academic year. The first cohort of the BBA program is expected to range from 40 – 80 students, and both parties will explore further scholarship opportunities to attract a substantial number of students into this program.

Deakin University is a public university in the Australian State of Victoria. Deakin was founded in 1974 and is named after Australia's second Prime Minister Alfred Deakin. The university's primary campuses are in Melbourne's Burwood neighborhood, Geelong Waurn Ponds, Geelong Waterfront, and Warrnambool, as well as an online Cloud Campus. Deakin also operates learning centers in the Victorian cities of Dandenong, Craigieburn, and Werribee. Deakin typically ranks high in undergraduate student satisfaction; in the 2020 Student Experience Survey, Deakin received the fourth highest national student satisfaction rating and the highest of all Victorian universities.
It is hoped that in 2023, VNU-IS and Deakin will strengthen their cooperation and development program which brings about fruitful results.