On 6th March, 2023, the kick-off event for the Overseas Immersion Program, co-hosted by Vietnam National University, Hanoi – International School and Ngee Ann Polytechnic, Singapore, was hosted online with the participation of 50 students from both institutions.
We were honoured to have the Vice Rector of VNU-IS, Dr. Nguyen Quang Thuan, to deliver an opening speech and extend his good wishes and success to Ngee Ann Polytechnic's representatives and students. His words were inspiring and set the tone for the rest of the program. Dr. Nguyen Quang Thuan's speech was not only inspiring but also highlighted the success of the previous year's program despite the challenges posed by the COVID-19 pandemic. He expressed his pleasure in hearing that this year's OIP would be held directly at VNU-IS, a place that connects East and West and attracts experts, scientists, and students from various nationalities to "study and create with the world."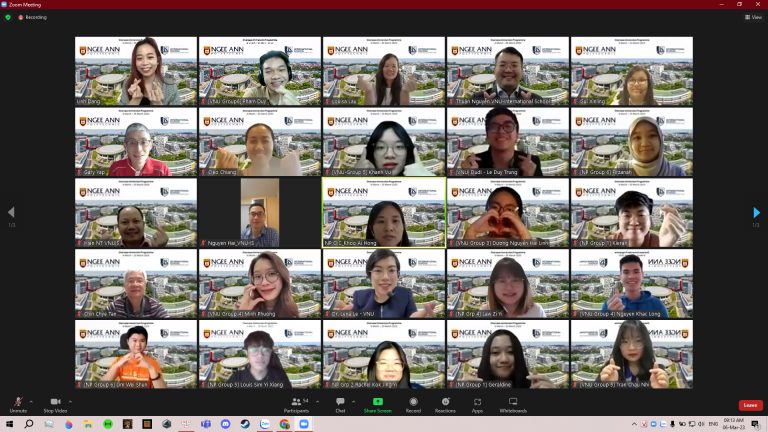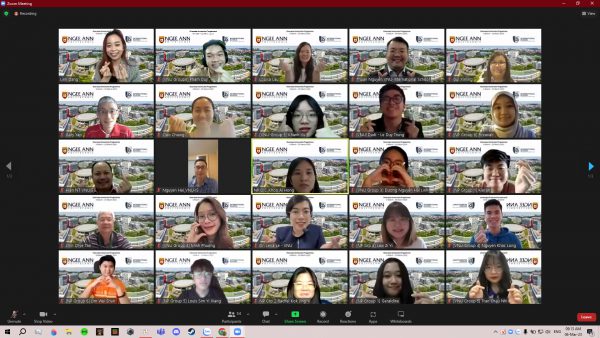 Dr. Thuan also emphasised the importance of exploring all aspects of Vietnamese culture, economy, and society in the most authentic way and highlighted the cooperative opportunities in youth development that this program promises to bring. He thanked Ngee Ann Polytechnic for initiating the program and continuously selecting VNU-IS as their strategic partner.
His speech was a reminder of the significance of cultural exchange and cooperation in the pursuit of education and youth development. His warm welcome and good wishes for the program and foreign students exemplify the hospitality and eagerness to collaborate that VNU-IS and Vietnam as a whole embody.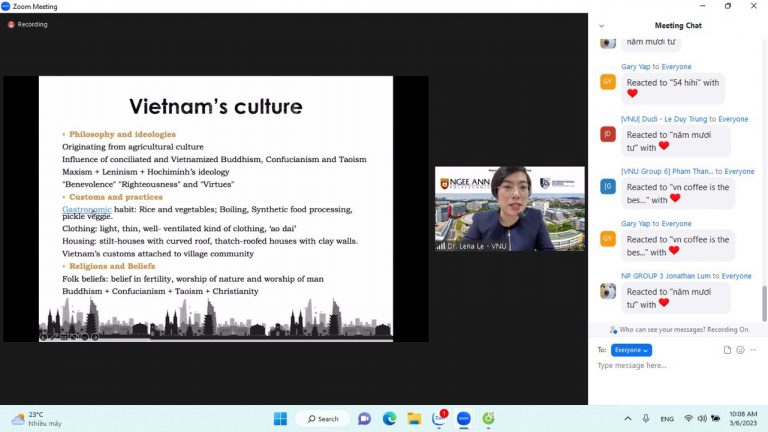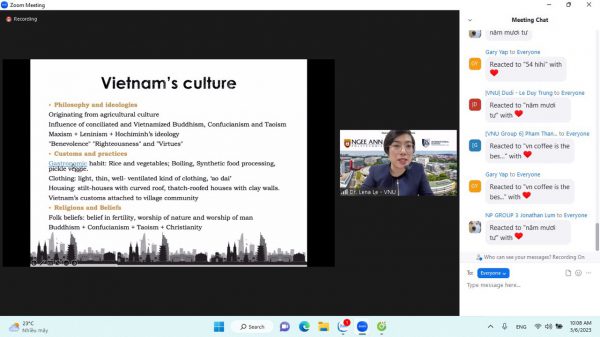 The second half of the event continued with an informative lecture from Dr. Lena Le, a lecturer from VNU. During her session, she introduced our NP and VNU-IS students to Vietnamese history, culture, and people, highlighting significant historical milestones from the founding of the country to the war, the construction of new policies, and the modern era.
Dr. Lena's presentation was illustrated with extremely realistic and interesting stories, captivating our students' attention. Besides, she also introduced Vietnamese cuisine, which was an essential part of Vietnamese culture. She provided some suggestions on must-try dishes when visiting Vietnam, giving our students an insight into the country's unique and delicious cuisine.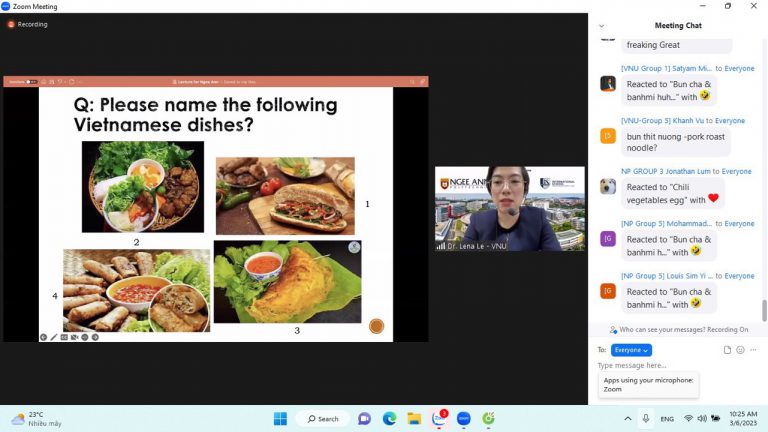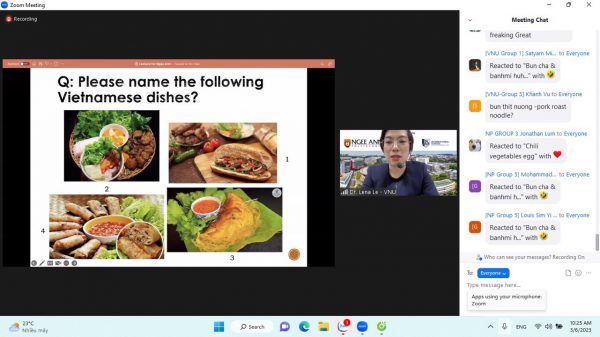 After the informative session, our students had a lot of intriguing questions for Dr. Lena Le. Satyam Mishra, a VNU-IS student, asked for some recommendations for books, documentaries, or other resources relevant to Vietnamese ethnic groups. Another student, Pham Van, inquired about Vietnamese traditional art forms like water puppetry, which Dr. Lena considered one of the top questions. She mentioned that we could visit poetry village, participate in local handcrafts, and observe traditional Vietnamese music and poetry performances (nhã nhạc cung đình, đàn ca tài tử) to gain a deeper understanding of Vietnamese culture.
Our Singaporean students were highly engaged throughout the session, showing a keen interest in Vietnam's history and culture. They are eager to explore Vietnam's rich culture further during our program, which is a testament to their curiosity and open-mindedness.
At the end of the meeting, all students from Ngee Ann Polytechnic and VNU-IS were divided into small groups at break rooms. Here, the students had the freedom to share more about casual topics such as the differences between our cultures, the extracurricular activities at the two universities as well as personal interests. The short period of time was more than enough to showcase the friendliness, dynamism and openness of students from both countries. These initial steps would hopefully facilitate the successful organisation of the OIP program. We are looking forward to welcoming the students of Ngee Ann polytechnic in Vietnam soon.
We are thrilled to have such an enthusiastic group of students for our overseas immersion program and look forward to welcoming Ngee Ann Polytechnic to Vietnam for the outbound program from 13th to 25th of March.