On October 23, 2022, VNU held the opening ceremony of its first academic year in VNU university town in Hoa Lac. This is an event of historical significance for VNU lecturers and students, especially 1,500 QH.2022 cohort students of VNU University of Education, VNU University of Medicine and Pharmacy, VNU Vietnam – Japan University, and VNU International School, studying full-time in Hoa Lac for the first time.
Politburo member Tran Thanh Man, Permanent Vice Chairman of the National Assembly attended and addressed the opening ceremony.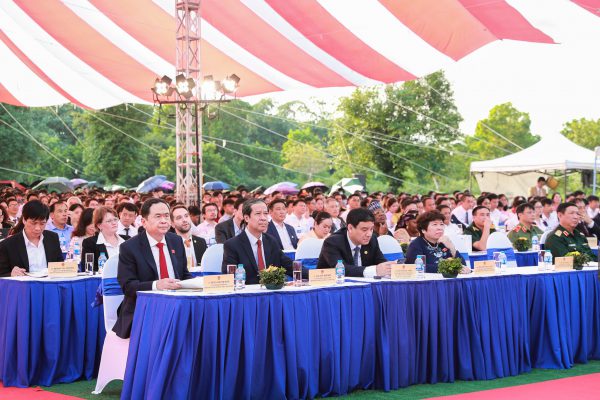 The 2022-2023 academic year began in a special context in VNU university town in Hoa Lac – a recently-put-into-operation model of a smart and green university, synchronous in terms of facilities, modern in equipment, and yet to be completed into a "5-in-1" model to raise VNU's status in its new stage of development.
According to VNU President Le Quan's opening speech, VNU-in-Hoa Lac Construction Investment Project, approved by the Government in 2003, has an area of 1,113 hectares. In 2018, the project was transferred from the Ministry of Construction to VNU. Over nearly 20 years, the total disbursement for the project has reached only about 15% of the total funding, and mainly spent on site clearance and infrastructure works.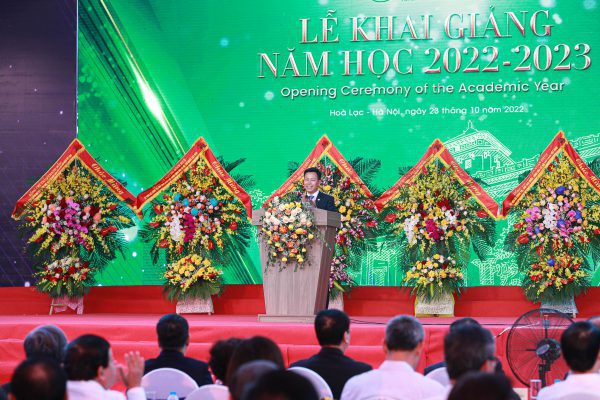 VNU President Le Quan delivered a speech at the opening ceremony.
Currently, VNU has about 60,000 students and lecturers. However, the entire inner-city campus of VNU has an area of only 16 hectares, mainly belonging to its three member universities: VNU University of Science, VNU University of Social Sciences and Humanities, and VNU University of Languages and International Studies. Most of the other VNU's units have to spend hundreds of billions of VND per year on rented facilities. The space for training and scientific research is cramped, leaving almost no space for transfer research and service provision cooperation. Therefore, the putting of the VNU project in Hoa Lac into use will help VNU advance.
On October 20, 2021, the first meeting to discuss the sending of students to Hoa Lac campus took place. In the spirit of "not saying no, saying no to difficulty, or no arguing towards refusal", VNU had launched three a-hundred-day campaigns. VNU's administrative units commenced work in Hoa Lac new headquarters on May 19, 2022 according to Notice No. 1666/TB-DHQGHN issued on May 18, 2022. This is a milestone marking the transformation of the whole VNU towards a new development space in terms of facilities, academic life, and university governance.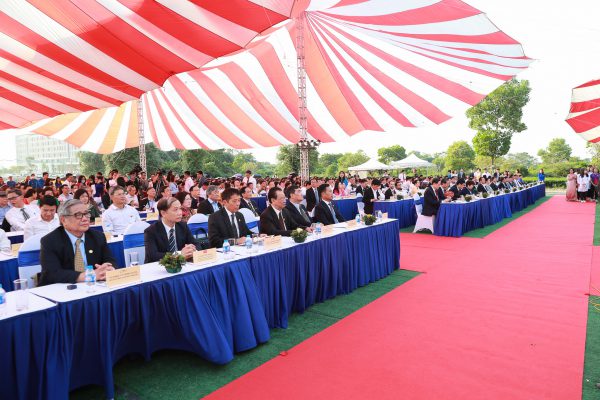 "The success came from VNU changing its thinking and attitude towards a new space like Hoa Lac: Shifting from building for use by single units, such as VNU University of Science on Hoa Lac campus to building to share among all the units of VNU to ensure the built structures' utility; Shifting from fundamental sciences to opening new highly-demanded engineering, technology and social fields; Changing from forcing certain units to move to Hoa Lac to giving priority to developing units in need", emphasized President Le Quan.
VNU President Le Quan expected that with the determination of VNU lecturers and students, by 2025, there would be 25,000 students studying in Hoa Lac. He wished that with the new development space, VNU would quickly thrive, being worthy of the trust of the Party, State and People, and becoming a leading knowledge centre. In the coming time, VNU in Hoa Lac will be a desired destination for students, a common home for lecturers and staff as well as a venue for cooperation and development of businesses.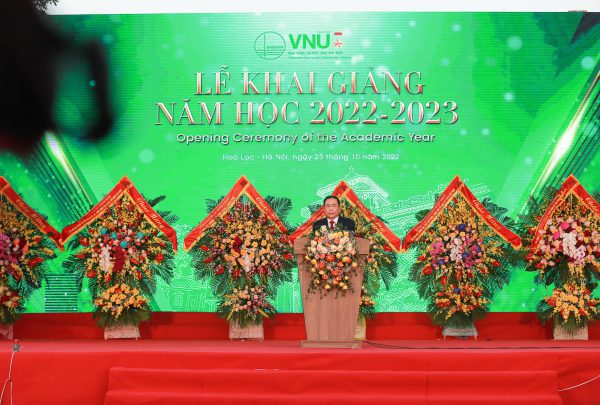 Permanent Vice Chairman of the National Assembly Tran Thanh Man delivered a speech at the opening ceremony.
Addressing the ceremony, Permanent Vice Chairman of the National Assembly Tran Thanh Man acknowledged and highly appreciated the efforts of VNU's leaders, officials, lecturers and learners in moving its headquarters to and offering courses in Hoa Lac.
Permanent Vice Chairman of the National Assembly affirmed that VNU had had a strong transformation, affirmed its reputation and established its position as the leading university in Vietnam and one of the top-ranked universities in the region and the world. The initial achievements of VNU and a number of other universities are creating a new spirit of Vietnamese higher education on the path to fundamental and comprehensive renovation guided by the Party and State.
Mr Tran Thanh Man suggested that VNU scientists and leaders focus all their resources on building VNU university town in Hoa Lac, gradually improving the quality of life, learning and training conditions for students. Along with that, it is necessary to strongly innovate teaching and learning methods in order to promote the positivity, initiative and creativity of students; strengthen practical skills, apply knowledge to solve practical problems; promote examples of morality, self-study, self-research and creativity of lecturers. He also suggested that Hanoi's leaders pay attention to speeding up site clearance as well as ensuring security and safety for students.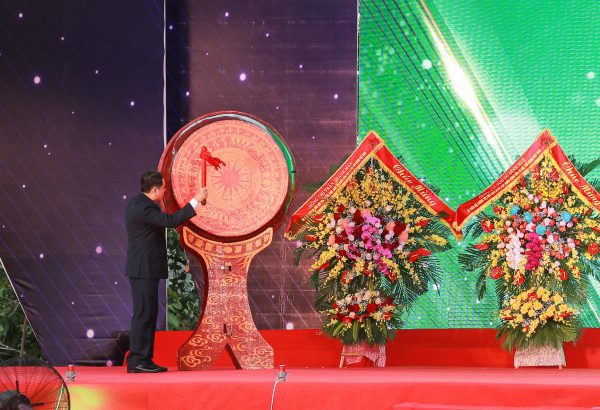 Permanent Vice Chairman of the National Assembly Tran Thanh Man beat the drum to open the new academic year on VNU Hoa Lac campus.
"We need a smart and sustainable VNU university town – a convergence of start-up ideas, creativity as well as preserving and promoting traditional and cultural values of the country to successfully contribute to the implementing of the Capital Law and Hanoi development strategy. VNU must become a major driving force for the socio-economic development of the capital", said Mr. Tran Thanh Man.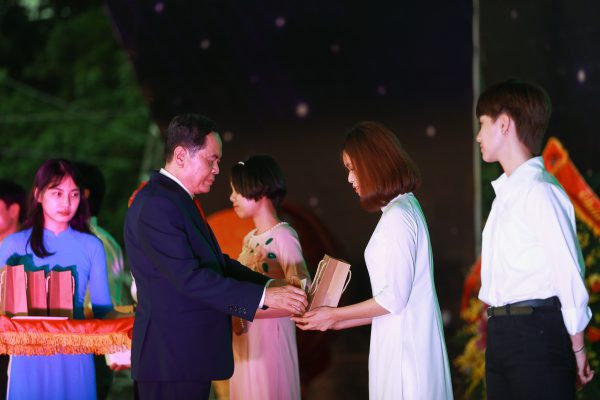 Permanent Vice Chairman of the National Assembly Tran Thanh Man presented gifts to VNU's 2022 entrance exam best candidates at the ceremony.