On September 27, 2021, VNU-IS and Ngee Ann Polytechnic, Singapore co-organized the Opening Ceremony of the "Overseas Immersion Programme" (OIP).
The Ceremony was attended by Assoc. Prof. Dr. Le Tuan Anh – Deputy Director of VNU Cooperation and Development Department, representatives of Ngee Ann Polytechnic, VNU-IS Vice Dean Nguyen Quang Thuan, as well as the lecturers, staff and students of both institutions.
OIP is an experiential exchange program for Ngee Ann Polytechnic students to discover and learn about the history, culture, economy of different countries and their people.
OIP 2021 marks the first experiential program between VNU-IS and Ngee Ann Polytechnic, to be organized entirely in an online format. On top of that, OIP was the second exchange program co-organized following this innovative format. The first program "Specialists' Community Action and Leadership Exchange Program" (TFI-SCALE), has been launched since 2019 and achieved proud achievements.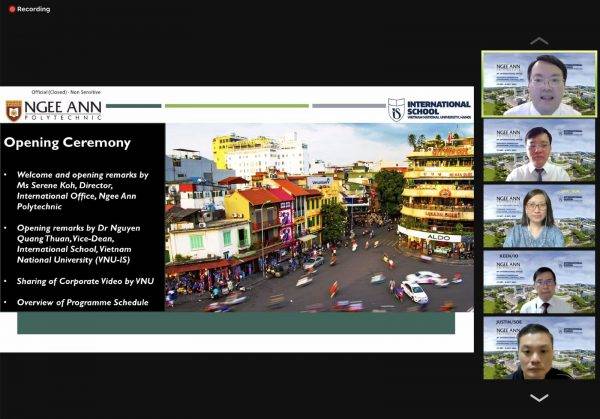 The Opening Ceremony of the OIP took place in a solemn and warming atmosphere with the participation of staff, lecturers and students of both institutions.
For the next 02 weeks, students from 06 affiliated schools of Ngee Ann Polytechnic will be equipped with knowledge about Vietnam's history, culture, economy and market, as well as its people.
In addition to classroom activities (presentations, workshops, etc.), the program includes other diverse activities, such as visiting streets (virtually), enjoying specialties and playing Vietnamese folk games. The tour guides of these activities consist of both lecturers and VNU students.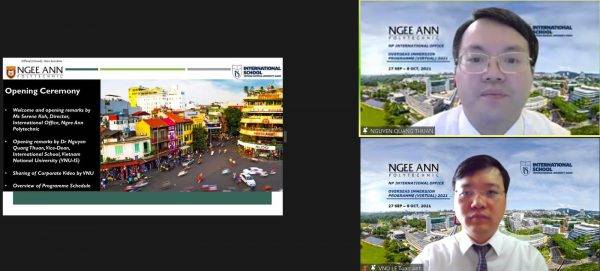 VNU-IS Vice Dean Nguyen Quang Thuan hopes that students can take full advantage of this exchange opportunity to study and connect with their friends.
During his speech at the Opening Ceremony, VNU-IS Vice Dean Nguyen Quang Thuan expressed his honor when International School had the opportunity to co-organize this meaningful exchange program.
"As the TF-SCALE program has successfully concluded, it will be followed by this OIP. Hence, we can say that such online exchange programs bring with them many great advantages.
Despite the ongoing pandemic, students from the two countries still have the opportunity to study and exchange with each other; to learn about the economy, society, culture and people of both Singapore and Vietnam. Students should take full advantage of this program to enrich their knowledge and skills, and make new friends", said Dr. Nguyen Quang Thuan.
Thus, VNU-IS students will have 02 weeks ahead to become the tour guides for Singaporean students. We hope that you will do a good job of assisting students of Ngee Ann Polytechnic to have great insights and interesting experiences.
Let's hope that the OIP will be a great success!