In June 2023, Ministry of Labor – Invalids and Social Affairs, Department of Labor, issued a decision granting approval for seven foreign lecturers to hold teaching positions at International School – Vietnam National University, Hanoi (VNUIS).
According to the decision, VNU International School will have one lecturer for preparatory English program, three lecturers for English language bachelor program, one lecturer for Russian language, one lecturer for Accounting – Finance, and one lecturer for Management.
The recruited lecturers should possess doctoral degrees and are preferably recommended to have professorial or associate professorial titles, along with expertise in relevant fields. The recruited candidates should demonstrate honesty, a genuine love for their work, and a strong passion for teaching and research. They should also possess the motivation to contribute value to both the school and the students.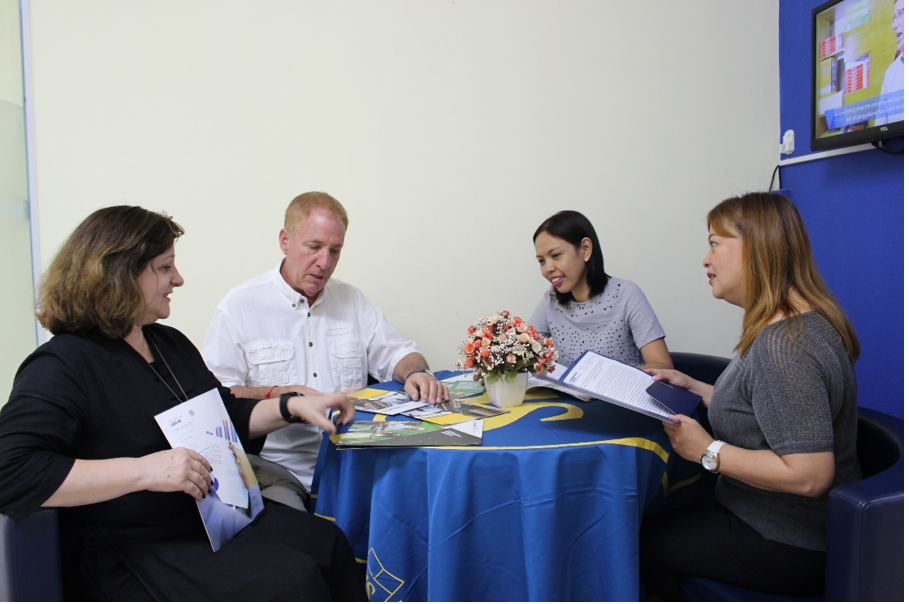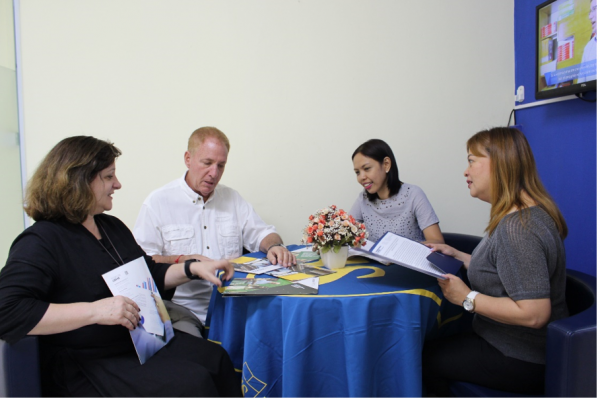 Internationality is reflected in an international educational community consisting of foreign lecturers.
Over more than two decades of construction and development, VNU International School has steadily gained prominence and reputation within society. Parents and students place their trust in the school, selecting it as their preferred educational institution for studying and gaining practical experience. This trust stems from the school's provision of an international learning environment that nurtures generations of self-assured and vibrant students. The school's international character is manifested in several ways, including Vietnamese and foreign students studying their majors entirely in English, collaborating with distinguished professors from various foreign universities, adopting innovative teaching approaches from overseas, and ultimately receiving graduation diplomas from either VNU or partner universities.
Internationality of the education community is further evidenced by the presence of foreign lecturers who possess professional expertise, pedagogical experience, and practical knowledge. The school's faculty comprises a group of scholars, professors, and lecturers from renowned universities worldwide (with programs awarded by VNU and preparatory English training). Additionally, the school benefits from the long-standing collaboration with strategic partner universities, where these foreign lecturers have served as faculty members in joint training programs. An exceptional characteristic exclusive to VNU International School is the substantial number of foreign lecturers working here. These dedicated educators have made significant contributions to the school's accomplishments in the previous academic year and continue to play a crucial role in its ongoing robust development.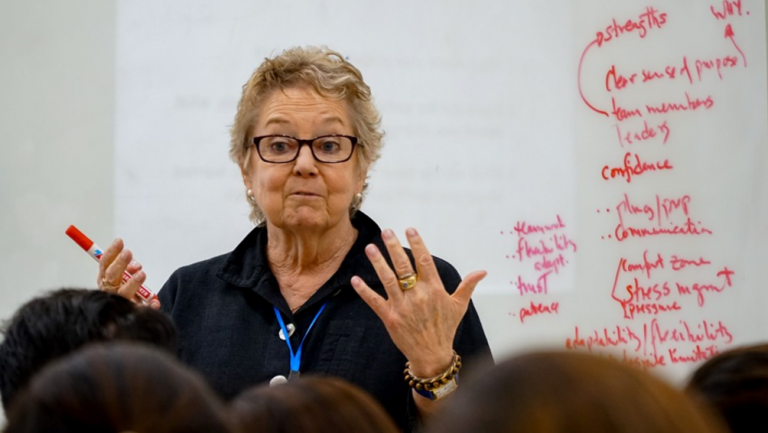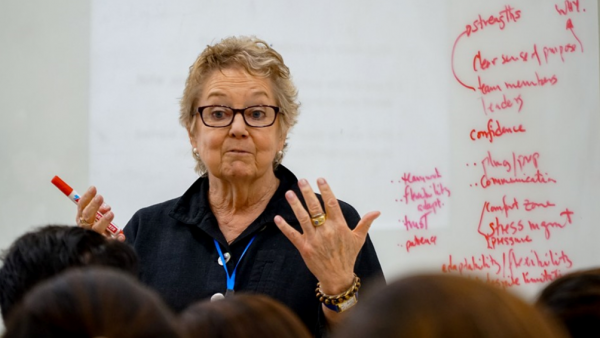 Prof. Lynn Lannon, lecturer at Keuka College – who always stands with International School students in all course projects.
On an annual basis, the International School typically welcomes around 30 lecturers from partner institutions to join their teaching staff. These educators are long-time faculty members of the school, having graduated from prestigious universities in countries such as the United States, United Kingdom, China, France, Lebanon, Russia, Australia, Taiwan, and more. They bring with them extensive teaching experience gained from their involvement in affiliated training programs. The lecturers from partner schools exhibit remarkable dedication, enthusiasm, and a wholehearted commitment to their students. In particular, VNU International School welcomes an average of about 20 scholars who actively engage in research and academic work. In addition to their teaching responsibilities, these distinguished professors and experts serve as speakers at seminars and workshops for lecturers. They collaborate with fellow faculty members on research projects and contribute to the publication of findings in reputable journals with a high scientific index.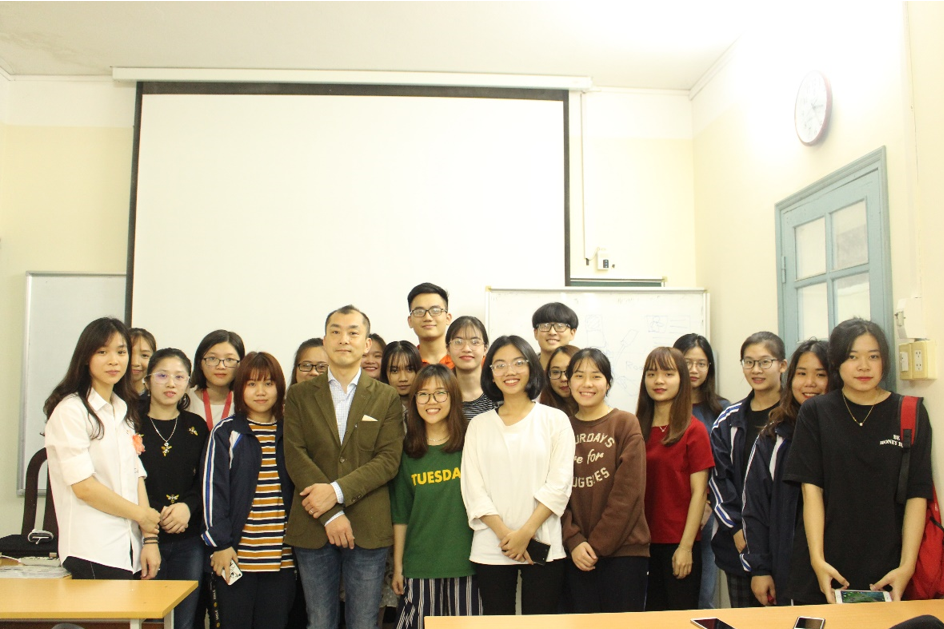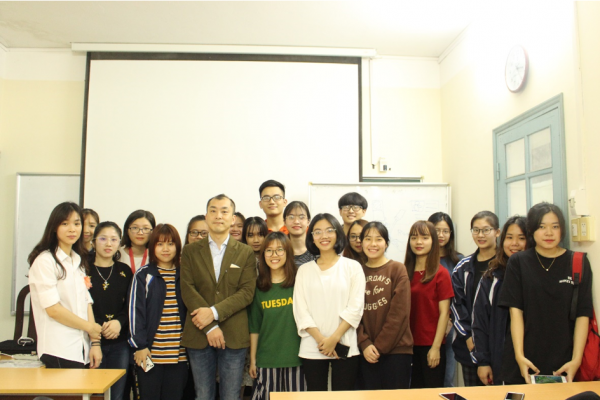 Being able to study with a team of experienced and qualified foreign lecturers is an advantage of International School students.
VNU International School has maintained and will continue to prioritize the establishment of an international learning environment as its core objective. This commitment is evident across various aspects, with a particular emphasis on the dedication to learners. However, the most significant and vital commitment lies in assembling a team of high-quality foreign lecturers who possess excellent expertise, extensive teaching backgrounds, and practical experience. Through the recent decision to approve additional foreign lecturer positions, the school reaffirms its ongoing efforts to recruit and reinforce the faculty of foreign lecturers. This collective effort aims to actively contribute to the ongoing construction and development of the school in the years to come.