The Overseas Immersion Program (OIP) was officially launched on the afternoon of March 14, 2023, at the International School – Vietnam National University, Hanoi (VNU), kicking off a 10-day series of cultural experiences in Vietnam.
This is the International School's second year collaborating with Ngee Ann Polytechnic to organize the OIP program. Due to the COVID-19 pandemic, the program was only available online the first year, yet it left a good impression among Singaporean students.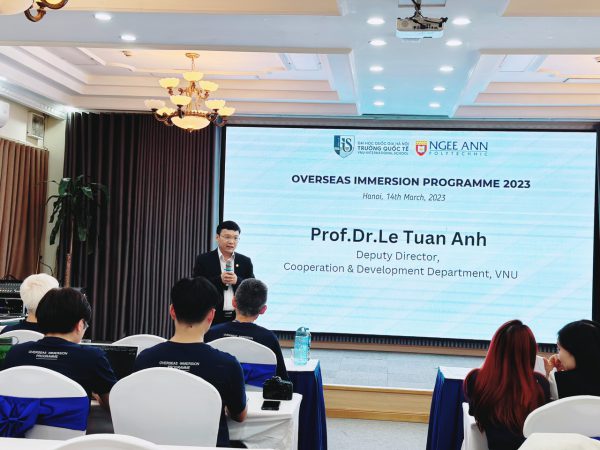 Assoc. Prof. Dr. Le Tuan Anh – Deputy Director of the Cooperation and Development Department, VNU, speaking at the opening ceremony of the OIP 2023.
The opening ceremony of the OIP 2023 took place in an intimate and cozy atmosphere with the presence of Assoc. Prof. Dr. Le Tuan Anh – Deputy Director of the Cooperation and Development Department, VNU, Dr. Nguyen Quang Thuan – Vice Rector of the International School, lecturers of Ngee Ann Polytechnic, representatives of the Office of Student Affairs and the Office of Research and Partnership Development of the International School; and 50 Vietnamese and Singaporean students. In his welcome speech, Assoc. Prof. Dr. Le Tuan Anh expressed his delight to welcome lecturers and students of Ngee Ann Polytechnic to study and exchange at VNU. The Deputy Director of the Cooperation and Development Department shared memorable moments from the OIP 2022; despite the fact that it was held online, Singapore students learned and experienced many interesting things about Vietnamese culture and people, and could see Vietnam's capital city – Hanoi, through a screen. This year, when the outbreak has passed, students from both units will be able to meet in person. This is a great pleasure for students from the two schools, hoping that students will take advantage of this great opportunity to learn, exchange, make friends.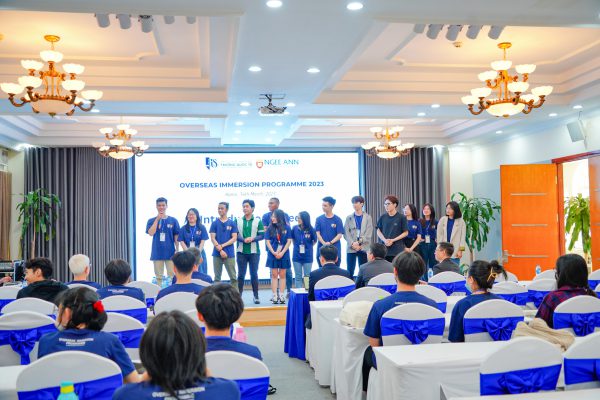 International School students introduce themselves and get acquainted with Singapore students.
Students from Ngee Ann Polytechnic started their experience learning program on March 14 by visiting Hanoi. Twenty International School students accompany them in all learning activities. VNU-IS students will accompany Ngee Ann Polytechnic students throughout the journey to become familiar with Vietnamese life and people, learn about culture and cuisine, and gain knowledge about the economy and society. This is also the highlight of the experiential learning method applied by both institutions. At the opening ceremony, Singapore students were welcomed with majestic performances which highlighted the unique characteristics of International School students while also delivering an impressive introduction about Vietnam's tradition.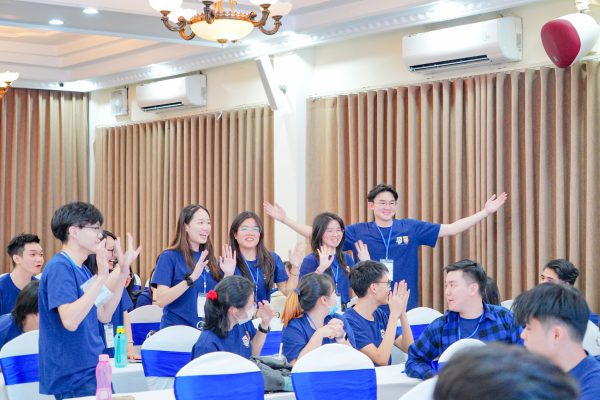 Singapore student groups are presented to International School students.
"The first day of the program was quite remarkable and enjoyable. I was introduced by the students of the International School and became familiar with many intriguing topics while living in a very youthful and dynamic environment. I also really like the atmosphere and weather in Vietnam," shared Lee Kian Long Leonard, a student at Ngee Ann Polytechnic.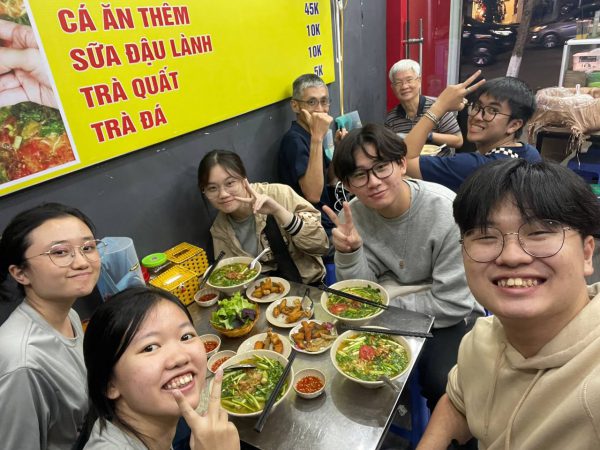 Ngee Ann Polytechnic teachers and students enjoy Hanoi cuisine together.
The "Overseas Immersion Program" (OIP) is a practical experience exchange program for Ngee Ann Polytechnic students. Through studying and exchanging in many countries around the world, Singapore students will get to immerse themselves in the culture, lifestyle, and practices of the host country. OIP 2021 is the first experiential program in Vietnam, established and conducted online by the International School in partnership with Ngee Ann Polytechnic. After the TF-SCALE program, OIP is the second exchange program created in this very new form (inbound – March 2021).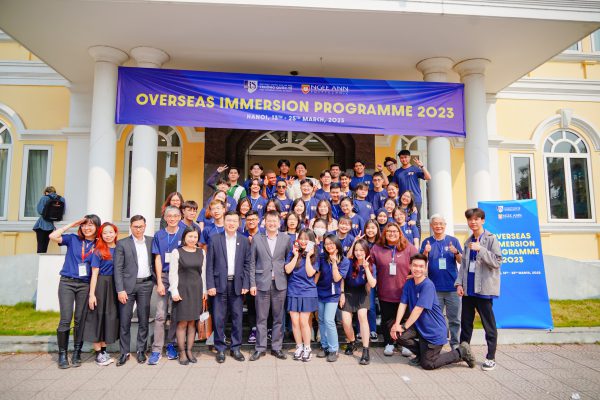 The performance to welcome Singapore friends from International School students left a good impression.
Singapore students will have a variety of activities to explore in Hanoi in the next few days, including study sessions and trips to learn about many new things. We hope that our Singaporean friends have a wonderful time at the upcoming activities.