INTRODUCTION
The Bachelor of Science in Hospitality, Sports and Tourism Management is fully organized at the International School with 10 semesters in 3.5 years, awarded by Troy University – USA. As the oldest public university established in 1887 in Alabama, USA, Troy University has been honored to be recognized as having the highest quality of education, the most prestigious in the southern United States or the best public school, awarded by the Association of Southern Colleges of the United States – SACS, The Princeton Review or Forbes Magazine.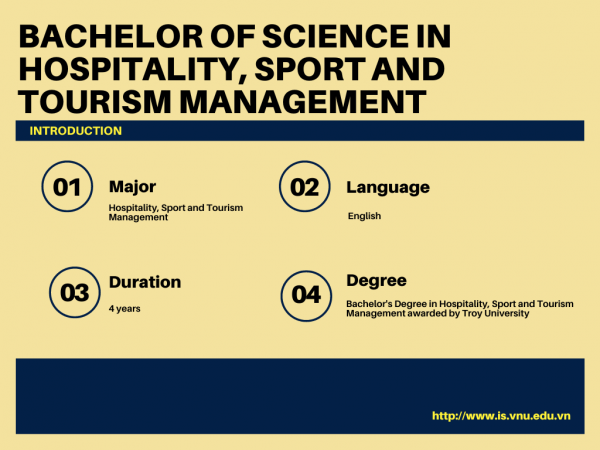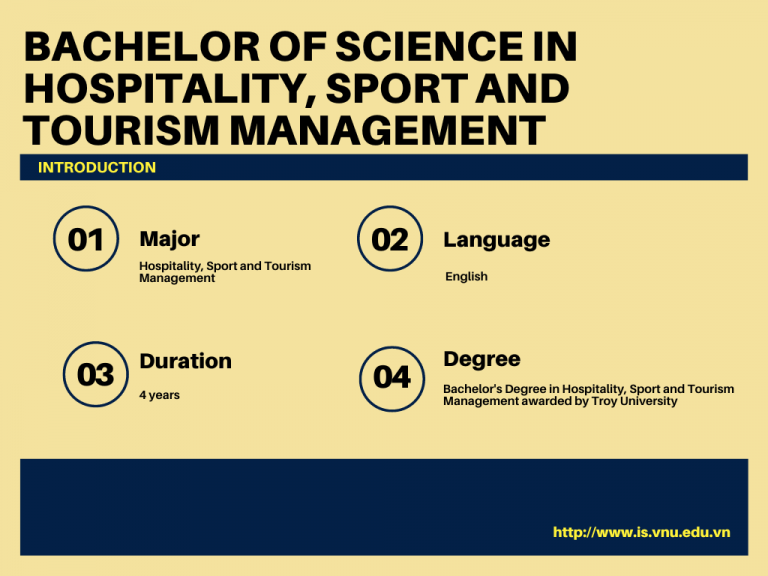 Advanced teaching and assessment methods are applied to motivate students in terms of self-study, self-development and creativity. With the aim of fostering students' knowledge and skills through hands-on experiences, all courses are designed and delivered entirely in English, with the participation of industry experts and lecturers. In addition, the Internship course (6 credits) requires students to take part in practical internships at companies and organizations in the tourism and hospitality industry. Therefore, with the advantage of decent language and professional skills, graduates of the hospitality, sports and tourism management program can seek employment and develop their career in a wide range of Vietnamese and foreign enterprises, travel companies, hotels, restaurants of the State, as well as units of public sector, social organizations, and non-governmental organizations.
The Bachelor in Hospitality, Tourism and Tourism Management joint training program between VNU-IS and Troy University uses the same modules and credits as the original program in Troy University. The content of some module is adjusted/supplemented to be suitable with Vietnamese and regional practice. According to the regulations of Troy University, Sport Management training program has not been organized oversea, so VNU-IS and Troy University came to an agreement about the training of 02 majors: Hospitality Management and Tourism Management. In the concentration, students can choose Hospitality Management (21 credits) or Tourism Management (21 credits). Students will study 07 subjects of the chosen concentration, and then study the minor for the other concentration in the next semester which are Tourism Management (for Hospitality Management concentration – 18 credits) and Hospitality Management (for Tourism Management concentration – 18 credits). During the program, lecturers from Troy University are expected to directly give lectures for 13 modules corresponding to 42/122 credits.
PROGRAM STRUCTURE
See the detailed program structure here: TROY Academic Curriculum